Thousands of Shopify payments are taken every day, but the burning question both consumers and sellers what to know is – is Shopify safe? Merchants are well aware of the various fraudulent practices some platforms use to cheat them out of their earnings, with chargebacks being at the very top.
Luckily, Shopify offers their services called Shopify Payments, which keeps merchants safe from this. And now, Shopify Payments has come to the US! (for selected merchants.)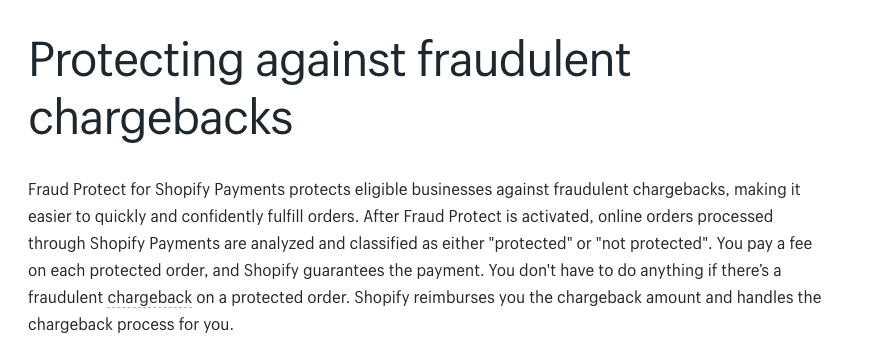 What Is Shopify Payments?
Shopify Payments is Shopify's very own payment provider service that comes integrated into every store. The main benefit of using it is not having to rely on third-party providers, but the feature-rich service makes it possible to manage all financial activity from a central hub.
It's only available in select countries, and now some in the US can benefit too. Although Shopify is working hard to make Shopify Payments available everywhere, each country has their own subset of regulations to adhere to regarding certain types of businesses. Check your business type and country availability here.

So, what is Shopify Payments setup like? It is a straightforward process – each existing store already comes with the ability to accept the most popular payment methods. The store owner will have to enter their Employer Identification Number (EIN), banking information, and the median price of their orders and shipping time. The whole process is very streamlined and intuitive.
What Are Shopify Payments Doing in Terms of Fraud Protection?
Shopify Payments makes taking payment from your store a breeze, but is Shopify safe to use? Shopify understands the safety concerns and is working hard to deliver appropriate protection options with their payment provider service.  
Find the fraud protection settings you have enabled by going to:
'Shopify Admin' and then, Settings > Payment Providers > Shopify Payments > Edit
There, you can choose to decline charges that don't successfully verify CVV or those that can't verify their Zip code. Reducing the risk you'll have to deal with fraudulent charges. 
Chargebacks
But, what about other types of fraud? What is Shopify Payments doing to deal with chargebacks for example? A chargeback is when a credit card provider or creditor requires the merchant to make good on a fraudulent purchase, which can see small businesses out of a substantial amount of money!
As of October 2018, Shopify Payments offers Fraud Protect to select merchants in the United States. This means a small fee is charged for every order, but that fee is also a guarantee of payment.
Shopify uses advanced systems, in this case machine learning, to detect fraud. Each payment is analysed and labelled accordingly:
Protected orders – A merchant can fulfil and ship these orders immediately.
Unprotected orders – A merchant can choose whether to fulfil and ship these orders or not.
In case there is a fraudulent chargeback on a protected order, you will be reimbursed for that order immediately, without having to take any additional steps. Offering you that extra peace of mind.
Set Up Shopify Payments Fraud Protection
You have to be eligible to use Fraud Protect by being a certain US-based business that uses Shopify Payments.
Once you've checked you are eligible, to enable fraud protection, simply go to:
Your Shopify Admin > Settings > Payment Providers and find Fraud Protect for Shopify Payments. Once there, go to Set Up Fraud Protect and accept the TOS.
You will be asked to choose between manual or automatic capture for payments. Manual allows you to review orders before you capture payments whilst automatic means they'll be immediately captured.
Then, simply click on Activate Fraud Protect > Done, and that's it! Your store is now more secure than ever. 
If you need help setting up or using Shopify fraud protection, ask one of our Shopify Experts today!