At Liquify we've rapidly become the go-to developers for Shopify Plus merchants who've been let down by other Shopify Plus developers and partners. Very often through missing deadlines or not supporting them with problems quickly enough.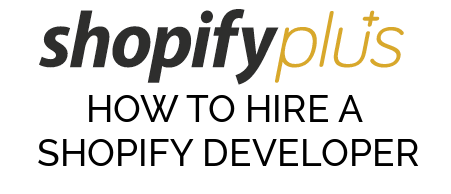 Why do these Shopify Plus merchants find us? Because we've built a reputation of getting the job done on time and on budget and we fix problems quickly when they arise – prioritising them over our other workload (when it's business affecting.)
In helping these merchants and hiring our own team of Shopify developers we've come to understand a lot about the mistakes people make when hiring developers – specifically for Shopify.
We've compiled a list of 10 questions you should ask any potential Shopify Plus developer before hiring. Because you shouldn't simply hire the first person who calls you back. In fact you should take that as a warning sign. People who are good at what they do are busy, very busy and you may need to fight or wait to become a client.
There's a dearth of quality Shopify Plus developers out there and no shortage of bullshitters, cowboys and amateurs. Nobody needs them when running a business.
Here are the top 10 questions you should ask a Shopify Plus developers before hiring to help you hire a genuine Shopify Plus developer.
1. Have you worked with Shopify Plus before? In what capacity and for which clients?
Here you're looking for concrete evidence that the person (or persons) you are dealing with have specific examples in their portfolio with Shopify Plus.
Having experience with Shopify itself is not enough. The Shopify Plus platform is packed with additional features and API's and so you need to know that your Shopify Plus developer knows what these features are and how to maximise them to your benefit.
Shopify Plus merchants are also very different to regular Shopify merchants. They demand more and expect more and are usually selling a hell of a lot more. So you need to be sure that your developer can handle you as a client.
Here you want to be able to see live URL's and be able to corroborate that work against their portfolio.
2. What are the main advantages of Shopify Plus?
Any Shopify Plus developer should be able to give you the run down of the main advantages of the platform they are claiming to be an expert in.
Likelihood is that you'll need to understand some technical stuff to really understand what they mean. Because the main benefits of Shopify Plus are technical. If you're unsure on the main benefits of Shopify Plus then you can read all about them here: Main benefits of Shopify Plus.
3 What are the API's for Shopify Plus and what can be done with them?
API's are application interfaces. They allow developers to do some cool and useful stuff with Shopify stores. You need to be sure that your potential Shopify Plus developer(s) knows about the various API's which are available to your store as a Shopify Plus Merchant. You can find a list of the API's available in the top benefits of Shopify Plus.
4 How much will Shopify Plus cost?
Every developer who specialises in Shopify Plus should know what the platform will cost you. It's not a terribly complicated calculation and you should know what it will cost before investing in the platform. You can use our Shopify fee/cost calculator to get an estimate or you can read our article about the costs/price of Shopify Plus.
5 How about Ruby? Can you code ruby for the Shopify Plus ruby scripts app?
This isn't a deal breaker but ideally any Shopify Plus developer should be able to code in the Ruby programming language. This is so that they can use the Ruby Scripts app which is specifically for Shopify Plus. This powerful little app allows you to have custom code deployed from the same server as your store without having to rely on a 3rd party hosted app which in turn allows you to depend on fewer servers.
6 How much can my checkout be customized in Shopify Plus?
The checkout with Shopify Plus can be customised but some people are not clear on exactly how much it can be customised. In short: any Shopify Plus developer should be able to tell you exactly what you can and can't do with the checkout using Shopify Plus. There are some hard limits which Shopify Plus developers need to work within regarding the checkout and your developer should be aware of them. Ask and if they say you can do whatever you want then don't hire them. It's not true. There are limits.
7 What features do you think Shopify Plus is missing? What are the downsides of Shopify Plus?
Everyone who is an expert will freely bore you to death with their expertise if you let them. Ask your potential Shopify Plus developer what he or she thinks are the main downsides of Shopify Plus. We've listed our top 5 disadvantages of Shopify Plus here.
8 What options are there for selling in multiple currencies with Shopify Plus?
Many Shopify Plus clients want to accept multiple currencies in their store. Ask your Shopify Plus developer about doing this. It's currently not possible and most stores use clones of the original Shopify Plus store – of which you can have up to 10 with Shopify Plus at no extra cost.
9 What programming languages can you code at an advanced level?
Any Shopify Plus developer should be absolutely 100% comfortable with the following: HTML, CSS, Javascript and Liquid. Ideally they will also be able to code Ruby and for bonus points they'll also be able to work in PHP because you may need external apps building at some point and PHP may well be the best option.
10 What is you average fix time for problems with Shopify Plus stores?
Shopify Plus stores generally have high sales. That means that every minute of downtime is expensive.
Downtime and technical problems should be dealt with swiftly and there should be a clear procedure from your Shopify developer about how they will handle emergency and scheduled work.
Does your potential Shopify Plus developer have a phone number? How long is their email reply usually? What are their office hours. Some developers take days to reply to emails and that's not acceptable if you're losing sales or upsetting customers.
As a benchmark we have a retainer for Shopify Plus clients with a minimum of 20 hours per month (so they guarantee to hire us for that time per month minimum). For that they get a phone number and 12 hours per day office hours with an average response time of 1 hour. If a problem is business affecting we drop all other work and focus on that.
Conclusion
We hope this article helps you to hire a decent Shopify Plus developer. If you're struggling to find one then drop us a line. We'll be happy to help if we can.
Interested in Trying Shopify Plus?
Interested in trying Shopify Plus? Why not get a free trial.