Shopify offers ten free Shopify themes to merchants who are just starting out with opening their Shopify store. While ten themes hardly seem to give a lot of choices, all Shopify themes actually have different variations called styles. A theme will usually have at least two different styles, which brings the overall number up.
Some merchants have created multi-million dollar sites using a free theme, but they're very good at marketing! So, when you get the budget, upgrade to a premium theme. You'll often pay around $180 for a premium theme, but they are much better and more feature rich. So, although free Shopify themes are an okay starting point, $180 is a better long-term investment as you'll probably outgrow your free theme quickly!
However, to start, here are the best free Shopify themes to use for opening your store.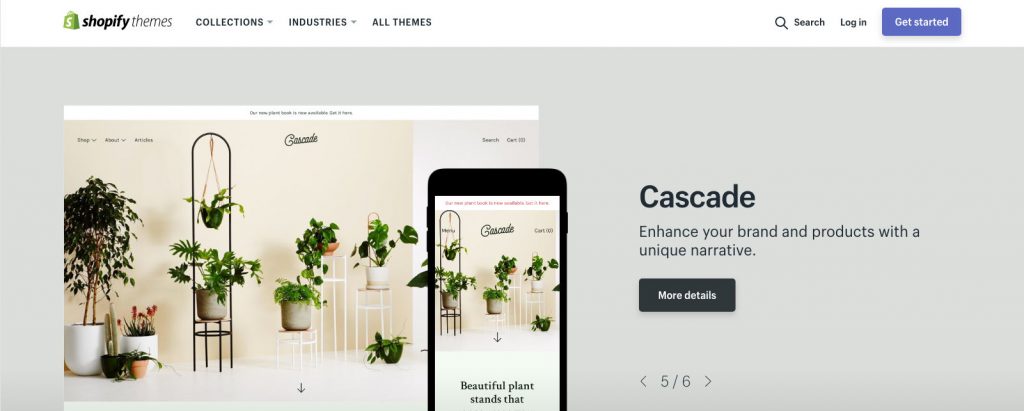 1. Free Shopify Themes: Pop
Pop is among the most popular and highly-rated free Shopify themes. It features a minimalist and sleek design that puts your products into focus. It is intended for merchants whose store will have small to medium inventories.
The theme comes with two styles: Bone and Toy, with bone featuring lovely warm colors and Toy opting for earthy tones. Both styles have a sidebar menu for ease of navigation and feature a homepage slideshow option that helps merchants showcase multiple products, featured products, or currently active sales in their store.
While browsing through products, customers can zoom in on product images to have a closer look. Zooming in will also reveal additional details about the product. But, one of the best features is the slide-out cart, so products can be added to the cart without navigating away from the current page. Customisation options also include adding a newsletter signup, video, and custom HTML to your pages.
Pop, being one of the best free Shopify themes, currently enjoys a positivity rating of 91% with 11 reviews.
2. Free Shopify Themes: Minimal
Minimal is a popular choice in the free Shopify themes section because it includes three different styles: Vintage, Fashion, and Modern.
In addition to these styles, it also offers great flexibility and customisation options. You can benefit from product image zoom and allows a YouTube or Vimeo video on your homepage to engage customers. As one of the best free Shopify themes, it also offers functionality that many others don't have: the homepage slideshow option has additional features. You can add up to six images, choose a fade transition, and add dot indicators for the slideshow.
Customisation options include additional layout, product view, collection view, navigation style options, and changing typographies. In the settings, you can choose to have social media buttons on your products and posts. Plus, add a favourite icon (favicon) to products.
You can enable order notes on the cart page so customers get extra communication options. Plus, Minimal lets you add a featured collection to the homepage, so you can easily promote new products. You can also add newsletter signup to the homepage to get your marketing up and running.
Being high up the rank amongst Shopify Themes, it features a positivity rating of 87% with 67 reviews.
3. Free Shopify Themes: Brooklyn
Brooklyn is quite popular among the free Shopify themes with those who want a contemporary and sleek apparel store with a focus on branding. The theme is ideal for stores that sell more than five products and prefer small menus and full-screen slideshows. It's heavily focused on providing a seamless mobile experience with fast loading times and responsive design.
It comes in two styles: Classic, which is a bit more serious, and Playful, which sparkles with color. The theme features include a header slideshow, a slide-out cart, and homepage video options. A dynamic product grid is a feature that makes it popular, as the product layout changes depending on how many items are displayed. Item numbers 1 to 6 will be the largest, so it's best to add products that you want to feature most in those positions.
The Rich Text feature lets you embed pages created with Shopify admin, like contact information, Google map locations, or embedded videos. The custom HTML section lets you add custom content to your homepage – tables, text blocks, or third-party website content. Other customisation options include adding drop-down menus to the main menu and navigation options to collection pages.
Brooklyn has a positivity rating of 75% with 57 reviews against other Shopify Themes.
4. Free Shopify Themes: Narrative
With three styles – Warm, Light, and Cold – the Narrative theme enjoys a high rating amongst free Shopify themes. It's intended for those who focus on product storytelling or those with limited or a single product feature.
Being one of the rare Shopify Themes that focuses on single-product merchants, this theme helps you tell your product's story and feature details that set you apart from others through a focus on imagery and video. If you wish to have a strong impact on customers and clearly send a message about your mission and vision, this is the theme for you.
All the best free Shopify themes have great customisation options, and Narrative is no exception. Each style lets you customise colors and typography, add links to social media pages, add a favourites icon, and customise the cart page. You can choose between a full-page cart or a cart drawer. Make navigation easier for your customers by enabling the drawer-style cart option so they don't have to leave the current page. You can make their orders custom by enabling them to add notes to orders.
Narrative enjoys a positivity rating of 73% with 22 reviews.
5. Free Shopify Themes: Simple
Simple is truly the simplest among free Shopify themes and sports a minimalistic design with products taking up the main stage. The two styles included with the theme are Light and Beauty. Light is simple and clean, and Beauty being pleasant and sleek. This theme is intended for merchants who prefer large menus, sidebar navigation, and have more than five products in their store.
The theme comes with a sidebar menu where you can add both collections or products. When browsing a collection and inspecting a product, related items from the collection will be displayed on the product page. This makes the shopping experience and navigation quicker. All images feature an animation when loading, making the browsing experience enjoyable and user-friendly. As with most other Shopify Themes, this theme is also built with mobile in mind and offers a responsive design that adjusts to any platform.
Customisation options include adding quantity, social sharing icons, zoom, and dynamic checkout to product pages. As well as adding a newsletter signup to the homepage, a featured collection and banner, and the use of Rich Text, custom HTML, and video.
This Simple theme has a positivity rating of 69% with 13 reviews.
Have extra budget, or need help making your theme fit your store type? Speak with our Shopify Designers who can help you find what's best for you.