Shopify has launched a brand-new Shopify multi-location inventory feature called Locations. This enables merchants to track inventory for all the different store localities they have, instead of tracking just one.
This is something that has been mentioned by merchants for some time and allows them a convenient and improved overview of their Shopify inventory across all their locales. From viewing new purchase and pickup options to their customers, all the way to tracking inventory and keeping stock.
The Benefits of Shopify Multi-Location Inventory to Merchants
Until now, merchants were limited when it came to fulfilling orders and customers were unable to see which items were available at a specific Shopify store. The Locations feature, allows merchants to route their inventory between stores. Those merchants who have both brick-and-mortar and online stores will be able to offer new delivery options to their customers. For example, a customer could buy online, but pick it up in-store.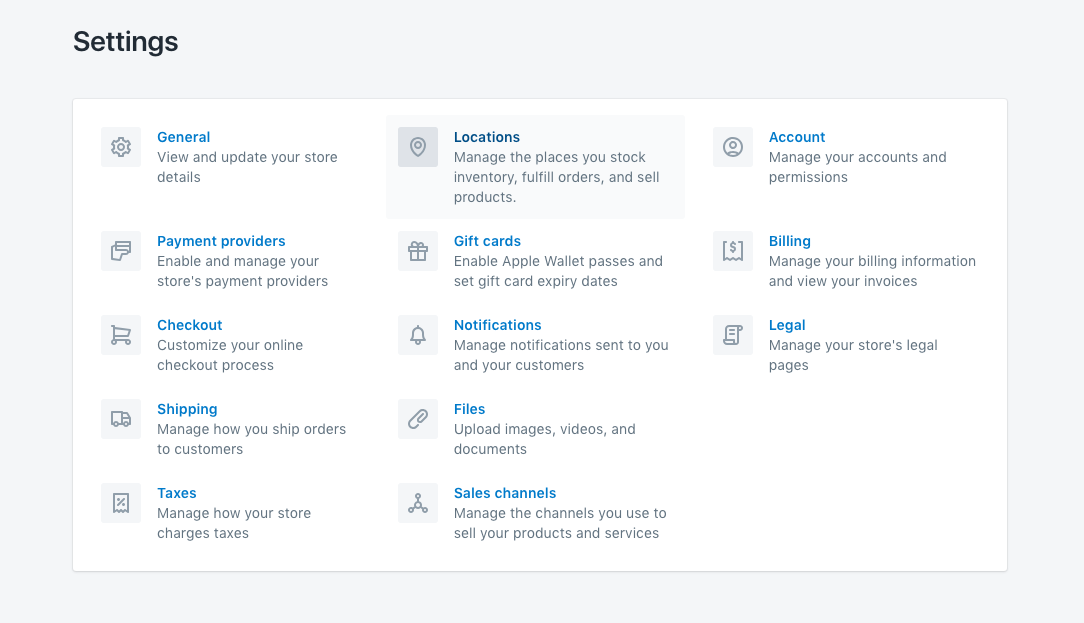 Merchants were also unable to track which part of the fulfilment process stock was in, for example when it was with suppliers, dropshippers, in-store or the warehouse. They could only track inventory using clever workarounds like duplicated stores or products but this is neither effective nor accurate.
Now, with the new Shopify multi-location inventory management option, any place merchants use to sell, fulfill, ship orders, or stock their inventory, is considered a location and can be added as such. When one location is out of stock, Shopify will automatically fulfill orders from other locations.
This way, Shopify inventory management becomes cost-effective, more efficient, and provides better overview and tracking. It also improves customer experience and avoids disappointment if you have manually created multiple stock and run out!
Merchants can also split the fulfilment process if running low on stock in one location to complete the order from two separate Locations without impacting the process or response time.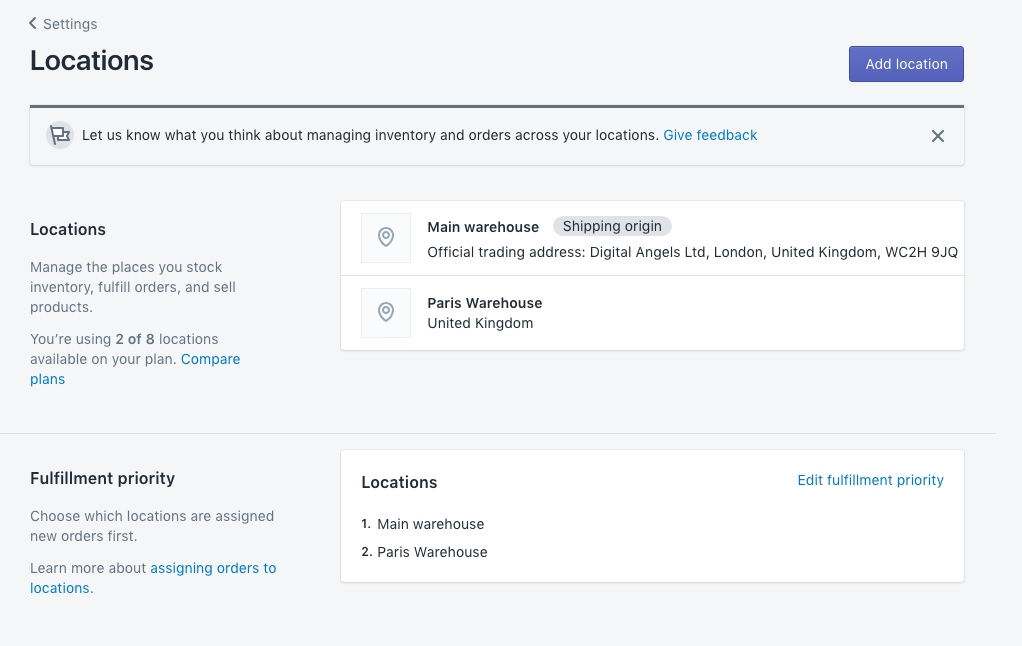 Should I Convert to Shopify Multi-Location Inventory Tracking?
*It's important to note that once the store is converted to track inventory across multiple Locations, there's no going back. 
Converting to the new Shopify multi-location inventory tracking feature depends heavily on the current setup. Converting will be beneficial to those merchants who:
Have multiple locations where they store their inventory.
Have the same shipping rates no matter which location they ship from.
Ship their orders from more than one location.
Have the same prices across all locations.
Converting might cause issues to those merchants who:
Have different shipping rates depending on the location they ship.
Have highly complex warehouse operations (high number of bins or lots).
Are using apps that update, restock, or fulfill inventory – all of them will need to be updated to work with the new multiple location functionality. Once they are updated, you are free to convert.
How to Use the New Shopify Multi-Location Inventory Management?
In order to activate Locations, you'll need to see how your current Shopify inventory management is set up. For example:
Point of sale (POS) merchants with more than one Shopify POS location will have to convert their store so that they can efficiently track inventory at each location.
Merchants that have only one location don't need to convert, and they can start using "Locations" immediately.
Merchants that have only one location and use third-party fulfilment services, such as Fulfilment by Amazon or Shipwire, can also start using the feature right away.
Then, once you've decided to convert to the new Shopify inventory management feature, you will have to follow these steps:
Inventory Count – Check the inventory at each location by doing a physical count to make sure the quantities are correct in Shopify.
Enable Locations – Go to Admin > Settings > Locations, and then choose "Enable inventory at locations."
Create/Deactivate/Delete Locations – Choose how many locations you will use and create more, or deactivate the ones you don't plan to use:

Create Locations: Go to Settings > Locations, and click the "Add location" button.
Deactivate Locations: Go to Settings > Locations, choose a location you don't plan to use, and then click the "Deactivate Location" button.
Delete Locations: First deactivate location, then choose "Delete Location." Historical data will be kept for reporting.  

Update Your Inventory – Go to Products > Inventory, and then update accordingly for each location. For a large number of locations or inventory, update via a CSV file or bulk editor.
Organise Fulfillment Priorities – Choose which locations will be preferred to fulfill orders.
Are Shopify Multi-Location Inventory "Locations" Available to All Merchants?
Currently, the Shopify Locations feature is in the beta phase and will slowly be rolled out during fall 2018. Merchants will be able to use the feature when they receive a notification about being in the beta, or that their store now supports the feature.
A new Inventory API will enable the multiple location tracking feature, meaning that any connected apps will easily track inventory across all locations. Any apps that are used to manage locations will be automatically added as an active location upon activating the feature.
Will All Shopify Apps Work with the New Shopify Multi-Locations Inventory?
Some apps may not be immediately integrated and will need to wait for developers to catch up to the API. If your app is not compatible you may not be able to start using Locations until you uninstall or turn off the app. Whilst others may find apps aren't available to download because they are no longer compatible.
If you're having trouble with getting apps and Locations to work, Shopify Experts should be able to help with the migration. 
How Many Locations Can Shopify Multi-Location Inventory Handle?
Merchants that have regular Shopify Plans will be able to have up to six locations. Those who are using Shopify Plus plans will be able to get even more.
Pro Tip: Deactivated locations are not counted towards the limit. For example, a merchant can have six active locations and four deactivated ones. If you wish to activate one of these locations, you will have to deactivate an active location first. Note, that before a location is deactivated, all transfers and orders have to be completed or reassigned to another location.
If you need help using the new Shopify multi-location inventory, ask Shopify Developers who should be able to help.