Recently some of our Shopify Plus clients have been reporting a message in their dashboard saying: "Upgrade your checkout by…in order to keep your checkout customisations, you need to upgrade your checkout."
The message looks like this: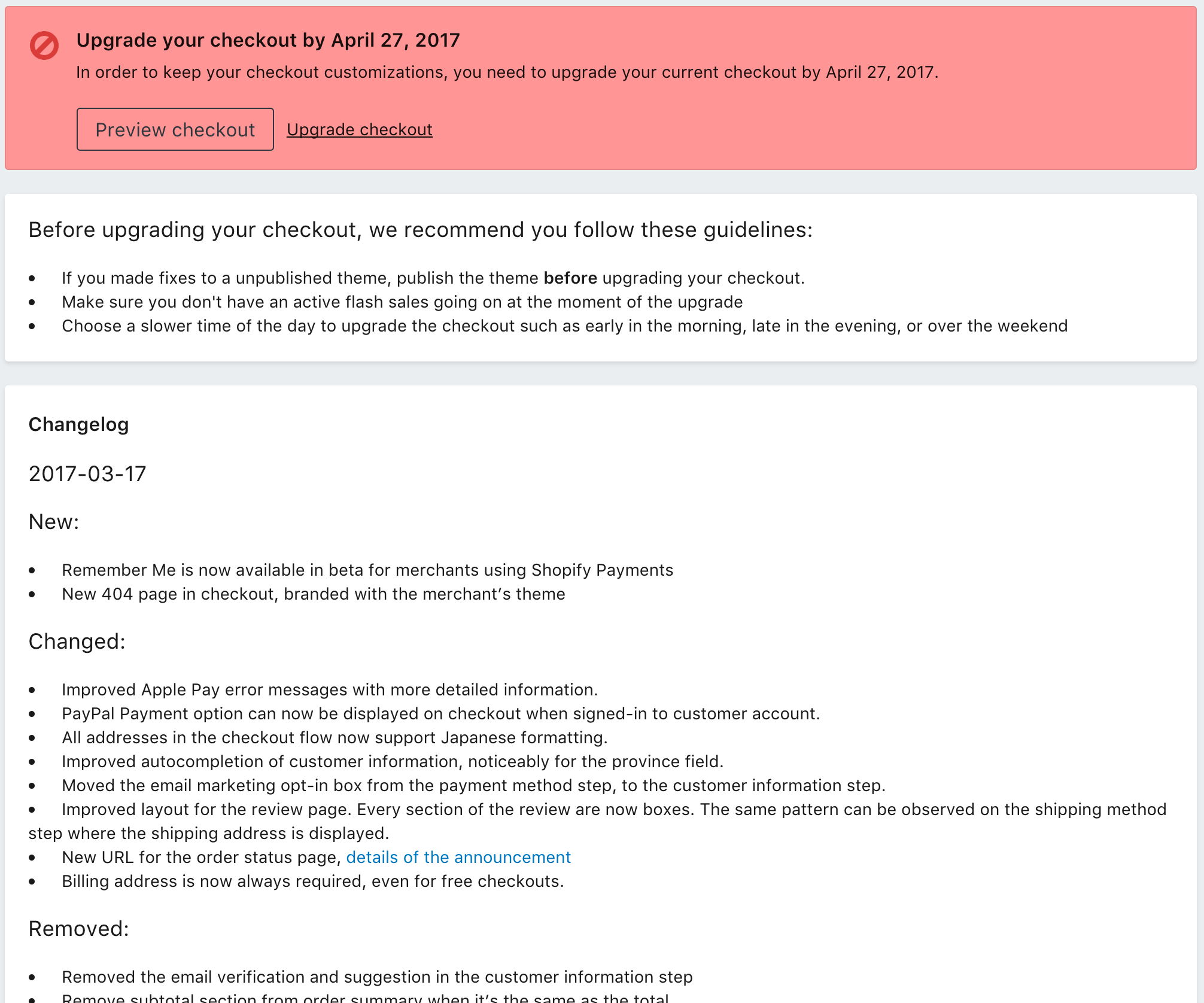 What do I see the Upgrade Checkout message on Shopify Plus
Shopify need to occasionally update the checkout and if you're on Shopify Plus you have access to the checkout files from within your theme (you can read more about this in our Shopify Plus Review). This upgrade checkout message is there to warn you that your checkout files need to to be checked to make sure they are compatible with the changes they are rolling out to the checkout. This message will not go away and if you don't act on it by the given date then you will lose your checkout customisations.
What to do about it
Don't ignore the upgrade checkout message. This is a job for a Shopify developer to do. If you have a customised checkout with Shopify Plus (and if you're on Shopify Plus you really should take advantage of this feature) then you absolutely need to hire a Shopify developer to ensure your theme is compatible with the checkout updates. We're not sure how often these updates will occur but it seems to be once every few months right now.
In the message from Shopify there is a changelog which details the changes they have made to the checkout. A developer will need to preview the new checkout and ensure all customisations to the checkout liquid and css files are working fine. It's important that you don't upgrade the checkout without first getting a developer to look over your theme and the customisations you have.
Need help with your checkout customisations with Shopify PLus?
Just drop us a line. We're official Shopify experts and will be happy to help you upgrade your checkout with Shopify Plus. We have clear hourly rates for Shopify development and also offer retainers for Shopify clients – offering lower rates for a fixed number of hours per month. No matter what kind of support or customisation you need – we can help. We've already upgraded 4 Shopify Plus checkouts this month.