Custom Plugs, one of the world's largest plugs & ear gauge retailers, now offers an even better shopping experience with a newly designed website powered by Shopify.
As an online store that stocks thousands of unique plugs and ear tunnel designs, as well as ear stretcher kits, ear weights, apparel, iron-on patches, and accessories. Their website launch has brought new features, and design but with the same Custom Plugs ethos.

Custom Plugs kept everything that mattered
While the move to Shopify is a big one logistically, they've managed to retain their recognisable branding and feel their customers are used to.
The new custom Shopify theme and entire migration process was led by our team of highly skilled Shopify Developers who helped Custom Plugs to focus on what was most important to them – customer experience & maintaining Google positions.
The new website has all the elements that repeat shoppers love about Custom Plugs: the focus on showing:
Full descriptions of every product they have in stock
A complete list of gauges and sizes in both metric and imperial sizes for a simpler selection with multi-level facet filters
Showing off their popular body jewellery designs, unique shapes, and creativity shines through with the new website.
It's a familiar feel but much smoother, faster, and mobile-friendly! Perfect for customers who prefer on-the-move shopping.
Smoother ordering process and browsing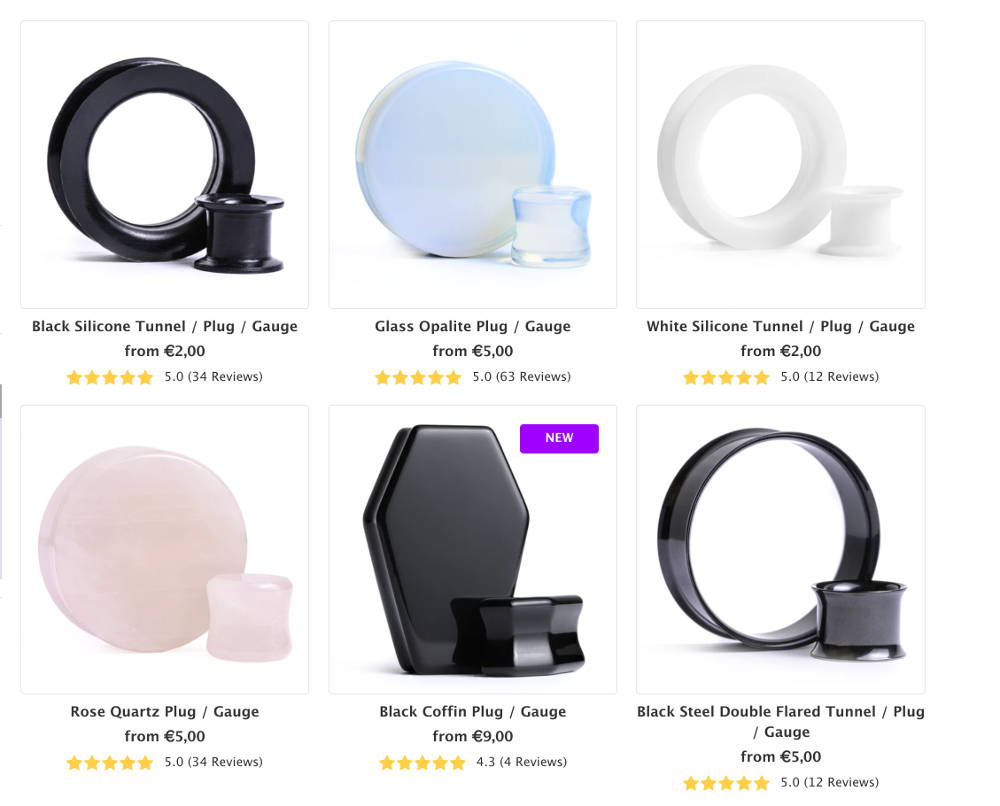 Being powered by Magento for years, Custom Plugs needed an increasing amount of features as they scaled the business, but this became less cost-efficient on the old platform. Plus with server instabilities causing a threat to the website and experience of customers, they realised they needed to overhaul the purchasing platform too.
Having used the Shopify platform in the past, Custom Plugs decided to return to the eCommerce solution with hosting included, supported by an ecosystem of experts, as well as high quality customer support that's available around the clock. And all of this for much more reasonable prices when compared to Magento.
All your favourite Plug & Gauge designs are still there
But there was a big challenge to tackle before moving – the already established huge database of listings for their apparel, body jewelry, tunnels, plugs, gauges, wooden iphone cases and accessories.
Continuing to stay on Magento was not an option.  With server costs + downtime along with the requirement to update all the time – Magento no longer makes sense financially.
After working on a detailed roadmap, everything was ready for the database migration. While a time-consuming process, it was a complete success. The whole database is intact, and the SEO ranking and positions were preserved as well!  We have migrated dozens of ecommerce brands over the years and maintained positions so this was not a concern for us.  Our Shopify SEO roadmap is rock solid.
Powered by Shopify, Custom Plugs can finally deliver the seamless experience their customers deserve, no matter which device they make their purchases from, without the platform they use costing them their profit margin!