Pathfinder is an email marketing app that takes care of a range of marketing tasks for your Shopify store. It handles the whole process of writing, creating and scheduling emails for campaigns that will increase purchases and achieve results.

Pathfinder – Email marketing done for you
Creating email campaigns can be fiddly and time consuming. To manage a successful sequence of marketing efforts and get result, you'll also need some solid knowledge and a thoroughly organised send-out schedule to send the newsletter out in a timely manner and keep your customers engaged, bring them back to your store and create repeat purchases (without annoying them in the process). The Pathfinder app does all of these things for you and will save you a great amount of time and stress.
Pathfinder gives you the option to choose between the following tasks as soon as you start the process of creating a campaign:
Acquire new customers
Reduce abandoned checkouts
Upsell customers after a purchase
Create promotions
Convert window shoppers
Increase customer happiness and referrals
Recover lost customers
Pathfinder will then produce a campaign newsletter based on what you want to achieve, using content from your site to fit your brand. It basically writes it and designs it. The best thing is that it also uses AI and will learn, over time, to make increasingly effectively targeted campaigns for your store. All the content they add is based on research from other successful campaigns, as well as your customers and their behaviours.
Overall review
This app gives great insight in to how your campaigns work for your customers and the revenue the campaign alone actually adds to the store. It segments your customers and creates different campaigns to fit your customer's interactions with your store. With time it will suggest improvements to make your campaigns more efficient. The self-learning process in this app really gives it an edge over its competitors.
The whole campaign creation is automated so you never have to spend time on entering texts or making design amends. The actual interaction with the campaign set-up process is done in a chat form in question and answer style (which will remember choices you have made). Although the options and requests are pre-set, it feels easy and somewhat personal – like you are chatting to a member of your team.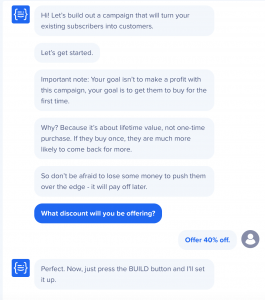 There is a comfort in knowing that you always have the ability to change the automated campaign Pathfinder has set-up for you and will always have to give the go-ahead on everything that is being sent out.
All in all, this app actually does what it claims. It fills the position of a marketing person in your team and takes care of  many marketing tasks essential to your store.
Pricing for app
This app is suitable for any sized team that wants to save time on email marketing.
The pricing increases based on the number of contacts.
Automate: $45/month
Pro: $145/month
Free trial
Pathfinder offers a 7-day trial. Interested? Please see here.